Mine barrage in the Skagerrak
During World War II, the German Navy laid a mine barrage in the entrance to the Skagerrak, between Kristiansand and Hanstholm. When the war was over, the Germans had laid a total of 8,810 mines and 4,298 protective buoys in the Skagerrak.
The object of the mine barrage was to prevent Allied warships from entering the Skagerrak. Keeping the British Navy out of the Skagerrak was crucial to Germany throughout the entire period of occupation, since if it had lost control of this waterway, the link between Germany and Norway would have been placed in great danger.
The first mines to form the barrage were laid during the night between 8 and 9 April 1940, and five minefields (I–V) containing a total of 1,642 mines were laid during the rest of that month. An opening measuring approximately 10 nautical miles was left near the coast at each end of the barrage, and German ships were able to pass through these openings without the risk of hitting their own mines. The openings were guarded on both sides of the water by guns on shore and by guard vessels at sea.
The mine barrage was reinforced periodically throughout the remainder of the war – as late as April 1945, attempts were made to lay additional mines. One reason why mine-laying operations continued in the Skagerrak was that the German fear of an Allied attack in the area escalated throughout the war. Another important factor was that reinforcements were necessary if the barrage was to continue to be effective. Naval mine barrages have a limited service life, as tides and currents can either pull the mines loose or cause them to explode. In addition, some mines were also equipped with batteries, which only lasted a certain length of time.
The clearing of the mine barrage was initiated immediately after the end of the war, and the Skagerrak was declared free of mines as early as 1946. Yet even today, fishermen still come across the remains of the minefields when they find sinkers resting on the seabed.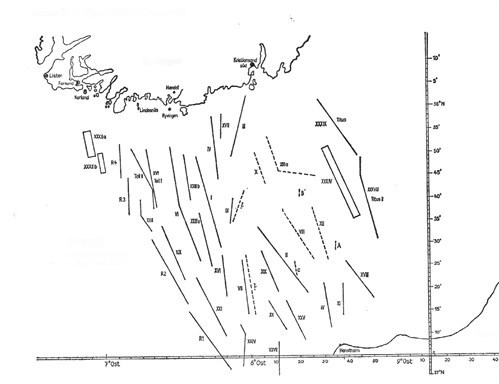 Map of the sea mine fields laid by the German navy in Skagerrak, 1940-1945.
Felt

Code name for operation

Date

Sea mines

Protective buoys

I

?

09.04.40

384 EMC

 

II

?

08.04.40

325 EMC

 

III

?

12.04.40

170 EMD

 

IV

?

12.04.40

373 EMD

 

V

?

24.04.40

390 EMC

 

VI

Halberstadt

08.01.42

597 EMF

 

VII

Anschluss Halberstadt

10.01.42

268 EMC

 

VIII

Hannover

02.03.42

210 EMC

 

IX

Kassel

25.04.42

151 EMC

 

X

Merkur

21.05.42

66 SMA

 

XI

Nero

22.-23.05.42

100 EMC

 

XII

Aachen

13.06.42

 65 SMA

 

XIII-A

Kunigunde

11.07.42

90 EMF

 

XIII-B

Kunigunde

11.07.42

 90 EMF

 

XIV

Düsseldorf

08.08.42

 65 SMA

 

XV

Oppeln

13.08.42

 50 LMF

 

XVI

Brunswick

27.01.43

248 EMF

 

XVII

Brunswick

25.01.43

 50 EMF

 

XVIII

Lithium

08.10.43

360 EMC

 

XIX

Natrium

11.10.43

360 EMF

 

XX

Großgörschen

05.03.44

250 EMC

200 RB

XXI

Leipzig

15.-16.04.44

280 EMF

350 RB

XXII

Waterloo

07-08.05.44

300 UMB

210 EMR

XXIII-A

Katzbach

01.-02.04.44

230 EMF

230 EMF

XXIII-B

Katzbach

06.-07.04.44

220 EMF

220 EMF

XXIV

Ligny

25.-26.04.44

198 EMF

265 RB

XXV

Sambesi

03.-04.08.44

313 EMC

199 EMR

XXVI

?

-

-

 

XXVII

Kalahari

03.-04.08.44

287 EMC

191 EMR

XXVIII

Merkur

-

(209 LMB)

 

XXIX

?

 

 

 

XXX

?

28.-29.08.44

117 LMB

 

XXXI

Augustus

18.03.45

500 EMC

250 EMR

XXXII-A

Vespasia

06.10.44

140 EMC
88 EMF

114 EMR

XXXII-B

Kaligula

02.10.44

110 EMC
62 EMF

86 EMR

XXXIII

Nero

-

504 EMC

245 EMR

XXXIV

Klaudius

19.-20.09.44

350 EMC
150 EMF

 

XXXV

?

-

504 EMC

245 EMR

XXXVI

?

-

-

 

XXXVII

?

-

-

 

XXXVIII

Titus II

07.-08.03.45

490 EMC

310 EMR

XXXIX

Titus

14.01.45

360 EMC

185 EMR

R 1

Dorthea A

12.02.44

 

512 Rb.

R 2

Dorthea Bruno

16.02.44

 

256 Rb.
180 EMR

R 3

Dorthea Cäsar

17.02.44

 

360 Rb.

R 4

Dorthea D

18.02.44

 

180 EMR

A+B

?

14.04.42

 20 SMA

 

C

Kalium

18.10.43

 50 LMF